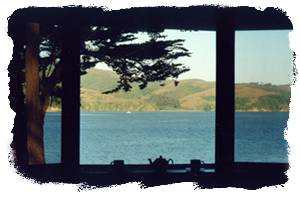 Rooms are furnished warmly and elegantly with Heirloom queen-size beds, fireplaces, and comfortable reading chairs. You will experience one of the most spectacular bay views on the West Coast.
Enjoy local activities such as hiking, walking, horseback riding, and bicycling. Point Reyes National Seashore has miles of beautiful trails within its 64,000 acres, with a variety of terrain to suit every walker and hiker. There is a boat ramp at Nick's Cove less than half a mile up the road from our inn, offering easy access to the Bay for boating, fishing, sailing, windsurfing, and kayaking.
Best of all, relax in your own guestroom with a favorite book or gaze out at the seals and the birds that inhabit the bay. Our area is a paradise for "birders," with over 400 species of water and land birds having been recorded at Point Reyes.
Inn on Tomales Bay is also the perfect base camp for day-tripping to San Francisco, the wine country, or the Highway One coast route. Return at the end of the day to the quiet and serenity of our beautiful bay-side location.
ROOM RATE $170/two night minimum
Bob & Lynnette, call for reservations
(415) 663-9002
22555 Highway 1
Marshall, CA 94940-9701
home | inn | rooms | views | reviews | directions